About the project
It's been known for over five hundred years, the Freisa. An old vine, that despite its undoubted qualities, might disappear from Piedmont. Why?
The Freisa has had a wide diffusion in Piedmont: from the Langhe to Monferrato to less suitable wine-growing areas, the Freisa was everywhere thanks to its good resistance to disease and ability to adapt to different types of soil, altitude and exposure.
The result is a versatile wine. A wine for every day, used and possibly abused. This has been a huge problem and created confusion among consumers who failed to identify the grape variety in a specific wine.
But please get rid of the prejudices and negative legacies. I try to briefly tell you the characteristics of this grape variety, why in the Monferrato area between Asti and Torino it feels "at home" and why a young winemaker like me believes in its future.
Almost all the genetic traits of the Freisa grape is identical to the Nebbiolo. The Freisa can also have a more intense and consistent ruby ​​red color. Our vineyard "Casot", which covers 8,520 square meters on a sandy tuff-land facing south, is located in Pino d'Asti, a small village in the middle of Piedmont. "Casot" because the lords used to build on site a house for the workers. We treat it with love, our "Casot": I get about 45 quintals per hectare, half as much as the product specification would allow us.
From my side there is full respect for a place where you can breathe history and traditions. In the countryside I don't use herbicides, pesticides and fertilizers, in the cellar I refer to traditional wine-making methods, with a very low dose of sulfites (for those who love numbers: one third of the allowed amount for the organic certification system) and without chemical adjuvants. I pick the grapes by hand, in small boxes of 20 pounds, and here begins a spontaneous fermentation with wild yeasts; after a short aging in steel, the must passes 18 months in oak barrels. Then it goes for a few weeks in the bottle, and here it comes a wine that is far from being used and abused. No, it is a wine with a delicate bouquet reminiscent of black cherry, the palate is sweet and fresh with a pleasant background of raspberry and a light tannic note, it improves with the age achieving a delicate harmony of flavors. I hope you will judge it yourselves.
My approach is totally different from the one used by wine industry. Definitely my model costs, but I am convinced that it is the only one that can guarantee a future for the Freisa.
My project is simple: I want to give dignity back to this wine, we can't lose it because together with it we would lose centuries of history and culture. I'd like to create and communicate a Freisa that gives the same emotions of a Nebbiolo. I'll let you know little by little, I will tell its story, the secrets of growing and the secrets of tasting, and if you come and visit me we will taste it together, our Freisa d'Asti d.o.c. Superiore.
I wait for you!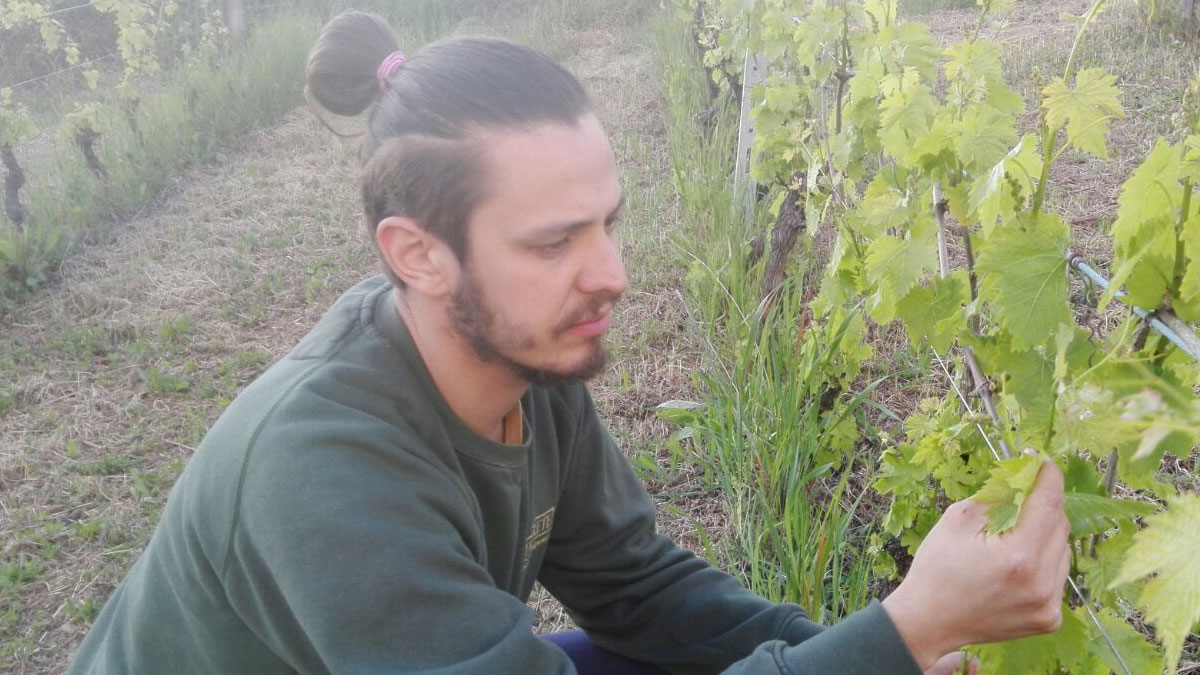 The Winemaker
Luca Ferrero, a young winemaker from Piedmont, is a passionate worker: in the evening he dreams a lot but in the morning he rolls up his sleeves and get his hands dirty.

His dream is called Ca' del Prete, the winery which took over in 2011, giving immediately his own mark: organic certification, discovery of unknown grape varieties such as Freisa, respecting tradition but look towards the future. In addition Luca dedicates his time to rediscover the ancient grape Malvasia Schierano and Barbera d'Asti.
He does not use herbicides, pesticides and fertilizers, and in the cellar he follows only traditional winemaking methods with a very low dose of sulfites. He knows that his way of working takes effort and money, but he believes that this is the only sustainable future for his land and his winery, Ca' del Prete.