About the project
Our vineyards sit on a beautiful hill in Contrada Braide, in the village of Melfi, in the proximity of Toppo San Paolo, the first historical crater of the ancient volcano called Vulture, dominating the landscape.
If you take your eyes off Vulture and look around you will notice that the landscape is missing something: trees. In the lands that emperor Frederic II preferred for the hunting with hawks and falcons, now only wheat and other cereals grow.
You can still quite frequently see kites and buzzards fly in the sky and dive to catch their prey, but they find a landscape very different from the medieval one, and much more prone to landslides and slips.
What is missing is "la vigna" , literally "the vineyard", which is a word that in Italian signifies only "grapes", but that in the Melfi area, for ages, meant a small piece of land where the farmer would grow not only grapes, but also olive trees, fruit trees, vegetables: a poor vineyard that would mean a lot in the daily sustenance of the peasant family and who shaped the ecosystem of the Vulture-Melfese countryside.

Our project is simple: to safeguard the biodiversity in order to strengthen the productivity of the ecosystem, decrease the vulnerability to natural disasters, increase the health of vineyards, contribute to the recovering of the original landscape and avoid the depletion of the cultural traditions.

We would like to populate the areas around our vineyards with the varieties of fruit most typical and most in danger of extinction: the Cavaliere cherries, pink, big, plump; the Zitelle apples, yellow and pink, with the typical slightly-flat shape; olive trees of the Cima di Melfi or Olivella del Vulture varieties. We could not forget about the marroncino (little chestnut) of Melfi, San Michele variety, or the Settembrina, also known as Pistolese, then the Rossina, with its mildly red-coloured husk, the Nostrana, or Melfitan chestnut, by far the most widespread, and the Reggiolana, nicknamed "muscatidd", because as fruitful and tasty as the Moscato grapes.
Then there are species that we cannot consider indigenous, but still were very important a while ago for the peasant culture and very common in the "vigna": jujubes and rowans, fruits that were left to dry up and then given to kids: the candies of the past.
We need just one tree per type to start, and maybe then also our neighbors could fancy to plant a Lucan tree in their vineyards.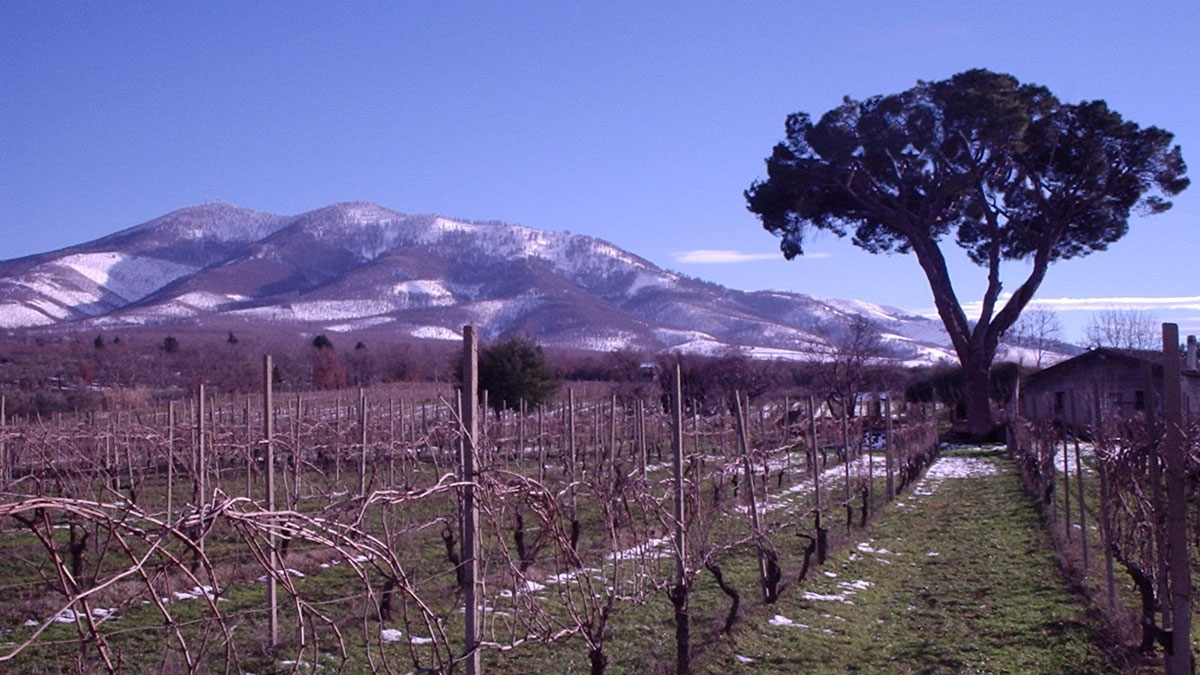 The Winemaker
Two siblings. Luca and Sara. They are in love with a dream, so much that they decide to abandon other paths and careers and to pursue it: wine making.
They define themselves as "modern artisans who look up to the sky as soon as they wake up, but run to the winery to make decanting without prior checking on the moon."
They are convinced that the necessary ingredients to making good wine are only two: good quality grapes, and time.